Bags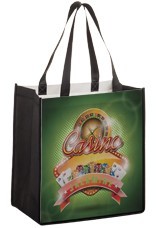 Bags
Blog on Bags
For those of us that LOVE shopping, the bag is something that we notice. Many years ago if we were lucky enough to get a cool bag, we would keep it forever. Now with all the bag bans and the fact that bags are such a great promotional item, cool bags are everywhere. There is a power to the tote!
It is an item that can be used for any market and everyone from shoppers to professionals need a way to carry their stuff. They can be inexpensive and just think about the cost per impression with a cool bag? It is like having a walking billboard for your company.
According to a study called the 2014 Global Advertising Specialties Impressions Study, consumers want products that are useful. Bags come in at 87% usefulness. And the study found that about 85 percent of promotional product recipients could remember the advertiser. WOW, what other form of advertising can you get at that price point that so many people can recall.
The nice thing about bags is that you can get them in all different price points, with so many design options. Recently one of our suppliers came out with a dye sublimated non-woven grocery tote, where you can do edge to edge printing DOMESTICALLY. Typically, you had to go overseas to get this kind of imprint area, and that means you need higher quantities.
As demand continues we will see more and more creativity in the bag world. So now that the "cat is out of the bag" on the effective use of bags as an advertising medium, how will you benefit from your walking billboard?
---
Category:
Tags: Bags, Tote Bags, Grocery Bags, Promo Bags